Custom Solutions Platform enables you to effortlessly transform your industry expertise into ready-to-deploy multi-platform cloud applications. This is achieved by harnessing the power of our low-code platform Zoho Creator, along with custom configuration options such as custom pricing, APIs, portal, and so on.
Zoho Creator:
Zoho Creator Solution Provider
At Zilltech, we provide Zoho Creator Consultants services.Zoho Creator is a cloud based software which allows you to create customized apps without any IT expert. It is one of the easiest application building platforms that allows you to create apps within a few days instead of months. Zoho Creator allows the users to create custom applications that can be beneficial for any business type (small and enterprise level). It also brings all the communication with the customers under one place so the businesses can focus on the goals.
Attainment of Customer Satisfaction
Our professional and trained Zoho Creator Consultants provide businesses with the needed consulting services in developing and launching applications. The Zoho Creator developers assist businesses in making mobile and desktop applications. The Zoho Creator consultants provide top notch services so that the new app can be utilized in its truest meaning for attaining the customer satisfaction. The exceptional features of Zoho Creator makes the application building easier for small, medium and large businesses. It has the simplest developing interface which is easily comprehendable. It enables businesses to go beyond the customer expectations while managing their work processes at one platform.
Achieving Business Targets and Streamlining work Processes with Zoho Creator developers
We understand that a sound technological progress is necessary for the business growth, and this is where our Zoho Creator Developers play their role. What's more better to endure the digital world with Zoho Creator developers? Simplify your business digitally with Zoho Creator developers. It provides you with an easy to operate interface with customizable triggers. It also helps you with Low-code platform. It is a technology that drives digital transformation by simplifying the way businesses build applications. Low-code platform help businesses get rid from the intricacies of doing coding by hand and enable businesses with all the rapid development and deployment of mobile-ready apps.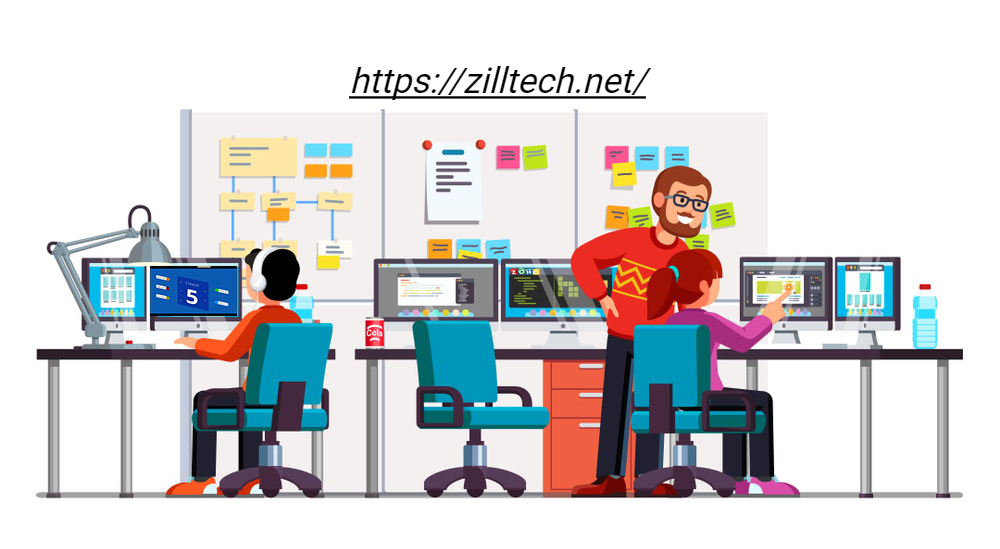 At Zilltech, you can reach out to Zoho Creator developers who are having extensive industry experience and skills spanning over years. They will ensure setting and achieving the business targets for your business. The developers most importantly help create user-friendly applications that have a simple interface that anyone in the pipeline can use and operate. Whether you require a single app for reminding tasks, and want to be notified about deadlines or creating fully functional mobile apps, we have the experts that can utilize the resources to facilitate you in the best manner possible.
Build seamless apps with Zoho Creator
Zoho Creator allows you to build applications that can run on any platform with a least effort. We at Zilltech believes that clients are our biggest asset. Their preferences matter the most.
Through Zoho Creator you can set up apps on the web builder and it will automatically create a mobile-friendly version— so no extra coding involved. In addition to the web app, you'll have another mobile version with all the essential UI/UX functionalities and options to create your own themes for the mobile apps.
Features of Zoho Creator:
 Drag-and-drop application builder
 Workflow Builder
 Tasks, Reminders, and Notifications
 Custom Reports And Interactive Dashboards
 Secure Access Controls
 Multi-Language Support
 Integration and API
 Mobile Apps
 Collaboration Tools
 Smart Reports
 Customer Portal
We are the Zoho Creator Developers to rely on when you need any help with Zoho Creator and its consultation. There are a lot of things that a business owner has to manage, it is important to take control of the important sectors including data, processes and people. Zoho  Creator is one of the soundest software that you can get for any kind of business. If you think Zoho Creator is right for your organization, let one of our team members help you out with it.
Should you need any information or like to speak to one of our Zoho Consultants, submit your contact details and we will get back to you at our earliest!
Would you like to speak to one of our Zoho Team
Just submit your contact details & we will be in touch shortly…