A unified platform for all your back office needs.
From invoicing to order management to accounting, Zoho Finance has all the tools you need to streamline all of your back office operations.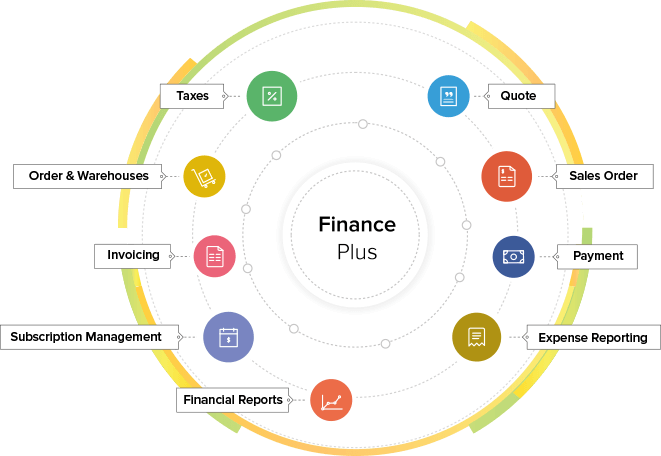 Zoho Books:
We introduce Zoho Books to your business and manage all accounting needs
Zoho Books is a smart accounting system designed for businesses. It is used to manage the business cash-flow efficiently. It is most likely that business owners want to learn more about any software that they add to the business. This is why we are here with our consulting services for Zoho Books. Our Zoho Books Consultants have experience working with sole proprietors, SMEs and large corporations. They have the experience of using various tools including the email-marketing, stock management, inventory systems, etc.
Operates in multiple languages
Sends and tracks invoices
Automates workflows and saves time
Zoho Subscriptions:
Subscription management system refers to the set of functionalities required to monitor and make changes to a new or existing subscriptions of a business. In order to keep track of the existing, new or lost customers, subscription management system is a must. Another important aspect that goes hand in hand with subscription management is a recurring billing system that gives you control over
Recurring frequency- number of times you want to bill your customers
Recurring period- definite time intervals for billing
Number of payments
But the question is, why any business need subscription management system so badly? So the answer to this is, subscription management gets out of hand when customers have multiple subscriptions and it can create massive trouble if anything goes wrong. The prime reason for any business to choose subscription management software is its ease of managing subscriptions in an automated way providing seamless subscription experience to businesses. If you are looking for a solution that allows you to control your subscription hassles, try Zoho subscriptions.
Zoho subscriptions is a cloud based recurring billing and subscription management solution designed to cater subscription business needs and to handle every aspect of subscription based business. Zoho subscription helps you to automate recurring billing, manage subscriptions, send professional tax compliant invoices and get paid on time. The simple yet innovative Zoho subscription app helps you to address payment failures and track overdue payments from customers through functionality like dunning management. Furthermore, Zoho brings flexible subscription plans and trials that allows you to reach wider audience. The more customers take the trial the higher the probability of becoming a long term customer.
The best part about Zoho Subscriptions is that it is accumulated with pre integrated tools at the entry level to make it compatible with Zoho's accounting software Zoho books. So whenever there is any transaction related to new subscriptions, renewals, customer credit, and refunds etc. will instantly be stored in Zoho Books which save user's time and effort to store all this manually. Let us now see the prime features Zoho subscriptions provide to its user base.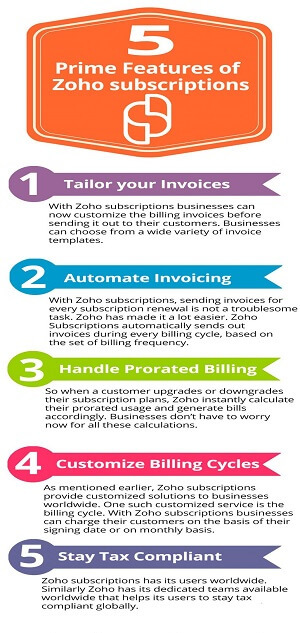 Zoho Inventory Consulting:
Optimize Your Inventory Management with Efficient Tools Offered in Zoho Inventory Management Software
Managing your stock and inventory involves constant tracking of your sales and orders. For this purpose, your business needs inventory control software which allows users to manage and keep track of all their stocks in their warehouses to update their inventory when needed. This way your management team handling orders and shipment will never fall behind in updating stocks when they run low on quantity. Clearly, as a business, you must have experienced instances where tracking every batch of inventory ran low and your customers were not delivered their orders on time. To avoid this, you need an efficient Zoho Inventory Management Software. Zoho Inventory is an addition to the application suite offered by Zoho CRM. At Zilltech, our Zoho Inventory Consulting process will allow you to fully maximize your use of the sales dashboard and other tools offered by this inventory management software.
Harness the real power of Zoho Inventory Management Software
Zoho Inventory Management System just makes your tracking processes easier which will improve your customer satisfaction and your sales efficiency. To overcome the challenges of going back and forth to manage your purchase orders, shipments, deliveries, and inventory, Zoho Inventory Management System is an ideal partner. Our certified Zoho consultants who are experts in all Zoho applications are helping our clients constantly to improve their sales, ERP, CRM, inventory, marketing, and other processes.