Zoho
Business Intelligence
Business intelligence (BI) software
Business intelligence software helps extract actionable insights from your data to make better decisions and devise successful strategies. By using a BI tool like Zoho Analytics for your business, you can gain better visibility of your business. A BI software helps you understand what is going on, identify if you need to take action, and decide what you should do next—all based on data trends and patterns.
What is Business Intelligence (BI) software?
Business intelligence (BI) is all about putting your data to efficient use, so that you can make data-driven decisions. BI empowers organizations to make decisions based on data rather than assumptions.
BI software is a tool or app equipped with modern technologies such as AI and ML, which helps you transform data into actionable insights without spending much effort. The BI tool converts raw data into meaningful insights in a way that you can understand, use, and share, to improve your business operations.
Zoho Analytics Consulting:
Gain Valuable Insights within Minutes and Enhance Your Business Intelligence with Zoho Reporting and Analytics Software
Zilltech is offering robust and seamless Zoho Reporting and Analytics Software integration for companies who want to make better business decisions. Analytics and insights, as well as reports, are an important part of decision making. For small and large businesses using Zoho Reporting and Analytics Software allows them to manage their data and improve their performance. Unless you are effectively using your business intelligence data, making informed decisions is impossible. The efficiency of your business decisions depends on how good your reporting tools are. This is why Zoho Reporting and Analytics Software is important as it enables businesses to effectively curtail your reporting needs. Zoho consultants and our effective process of Zoho Analytics Consulting has helped many clients improve their analysis capabilities.
Zoho Business Intelligence Software offers powerful reports creation tools and data analysis which will allow you to examine your current business performance. By analyzing and measuring your current performance, you will be able to make decisions for the future. When you are doing continuous data collection and analyzing it, it is important to improvise the reporting process so you do no miss out on essential details. All in all, for all types of users like data analysts or spreadsheet users, Zoho Business Intelligence Software is highly intelligent. Let us see how. First of all, as a scalable business intelligence solution, it helps users handle large amounts of data, create different visualizations, optimize your business methods, identify different growth areas, and highlight problematic areas for improvement.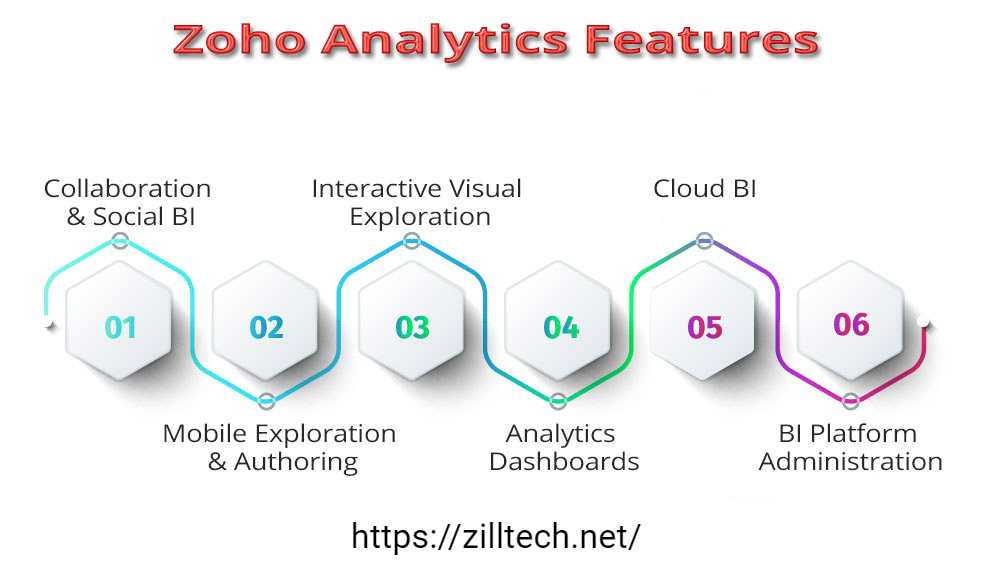 This is why you would need a team of Zoho Consultants with whom you can work on improving your business processes by integrating Zoho Reporting and Analytics Software. Producing large amounts of data from different sources can be overwhelming but data is an indicator of how your business. This is why as experts and specialists in Zoho Reporting and Analytics Software, we are offering consultation services for small and medium-sized businesses. As a user-friendly business intelligence solution, our Zoho Analytics Consulting will allow you to track business metrics and identify outliers and hidden insights.